COVID-19 Information
UPDATED October 7, 2021
» Please read the October 7th Statement from Dr. Janssen, Chief of Staff.
Clinic Information
In spite of the recent increase in COVID cases in our community and the surrounding areas, we are still able to provide some in-person office appointments. We have implemented and continue to follow strict protocols as part of our office COVID safety plan. We are constantly reviewing the COVID-19 updates and recommendations from the Provincial Medical Health Officer and will be ready to adapt our procedures should the need arise. 
Our Providers are still using telephone calls and virtual video appointments to provide patient care as much as possible and where clinically appropriate. Nevertheless, some patients do need to be seen "in-person" and we have started booking patients for office visits for things like surgical consultations, paps, and Driver's medicals. We have a limited number of "in-office" appointment slots each day which allows us to properly clean and sanitize the exam rooms and other spaces between patients and also allows everyone to practice safe physical distancing in the building.
In most cases, your Provider will determine if you should be seen in-person at the office. We may contact you for an office visit if you are in our recall system for other types of health screening.  If you feel you need an in-person appointment, please call the office ahead to discuss the specifics.
Prenatal appointments are still being scheduled between 8-10 am. Home visits can be arranged for the elderly or for other patients with special circumstances by request.
If you have any concerns or questions about booking appointments or our office protocols, please do not hesitate to contact us at (250) 567-2201. We want to make sure that you get the care you need.
COVID-19 Vaccine News
As we continue to see a surge in cases of COVID-19 in Vanderhoof and across the Northern Health region, new public health orders have been introduced for the Northern Health Authority region as of September 2nd, 2021:  New health measures introduced for Northern Health region | Stories
All people age 12 and up are strongly encouraged to get immunized which will provide the best source of protection against COVID-19. Check the NH website regularly for COVID vaccine clinics, as new pop-up clinics are added frequently.
COVID-19 vaccination clinics are being held at the Vanderhoof Health Unit on the following dates:
Vanderhoof and area (includes Saik'uz First Nation - surrounding communities may differ.
When:
Every Thursday in October - 1:00pm - 4:00pm
Where: Vanderhoof Health Unit, 3299 Hospital Rd, Vanderhoof
Who:
12+ booked appointment are priority
Drop-ins welcome, space is limited
To book an appointment:
Go to https://gov.bc.ca/getvaccinated to register and book online.
Or, call the provincial call centre at 1-833-838-2323 for additional help or if you do not have a personal health number.

Your vaccination appointment date, time and location will be given to you upon booking. 
Your appointment will take approximately 10 minutes. Following your immunization, you will be asked to wait an additional 15 minutes in a designated waiting area before leaving the clinic.
Please continue to do all that you can to prevent the spread of the virus as per the current Public Health Orders. Go to the RestartBC website to learn more.
COVID-19 Test Booking Form
There are a few options to book a COVID-19 test. Please go to:
» NH COVID-19 Test Booking Form
» call: NH COVID-19 / Virtual Clinic line (1-844-645-7811)
The Omineca Medical Clinic is trying to offer phone appointments with a Physician or our Nurse Practitioner daily during regular business hours for COVID-19 assessments and for those who feel they need to be tested.  Patients can also call the office to see what is available.
About COVID-19
COVID-19 cases, including confirmed cases of the Delta variant, are increasing in the community and the larger Northern Health region.  As such, the province has implemented some new temporary health orders to manage the COVID activity:  New health measures introduced for Northern Health region | Stories. These measures will stay in place until Northern Health experiences lower cases and higher vaccination rates.
Our office continues to offer some in-person appointments but telephone and virtual appointments are also still available, as appropriate.  Our front door remains locked and patients will be screened at the door before entry.    A medical grade face mask for in-office appointments is still required for your safety and the safety of others.  You will be provided with a medical mask to wear in our office.
Please call us ahead at (250) 567-2201 to discuss health care needs.  Your Provider will help us determine the most appropriate type of appointment needed. 
The Northern Health Virtual and Primary Care Clinic (COVID-19 hotline) is still operating and those with questions about COVID-19 testing can also call 1-844-645-7811.
Other trusted links for COVID-19 information include:
COVID-19 content in other languages
COVID-19 information and resources
Other Links and Numbers
Northern Health COVID-19 Hotline: 1-844-645-7811
Download the online Self-Assessment Tool/App » https://bc.thrive.health/
COVID-19 Community Guide » https://www.northernhealth.ca/sites/northern_health/files/health-information/health-topics/coronavirus/documents/covid-19-nh-community-guide.pdf
It is CRITICAL that everyone in community exercise Social Distancing. Download a helpful graphic to learn how.
» For additional up-to-date and factual information on COVID-19 please visit these sites:
Northern Health COVID-19 information website
BC Centre for Disease Control COVID-19 information website
World Health Organization COVID-19 information website
Public Health Agency of Canada
COVID-19 content in other languages
Resources for Handwashing and Self-isolation

Public Health Agency of Canada Coronavirus information line:
1-833-784-4397
BC Nurseline: 811
BC Crisis Line: 310-6789 for access 24/7
Letters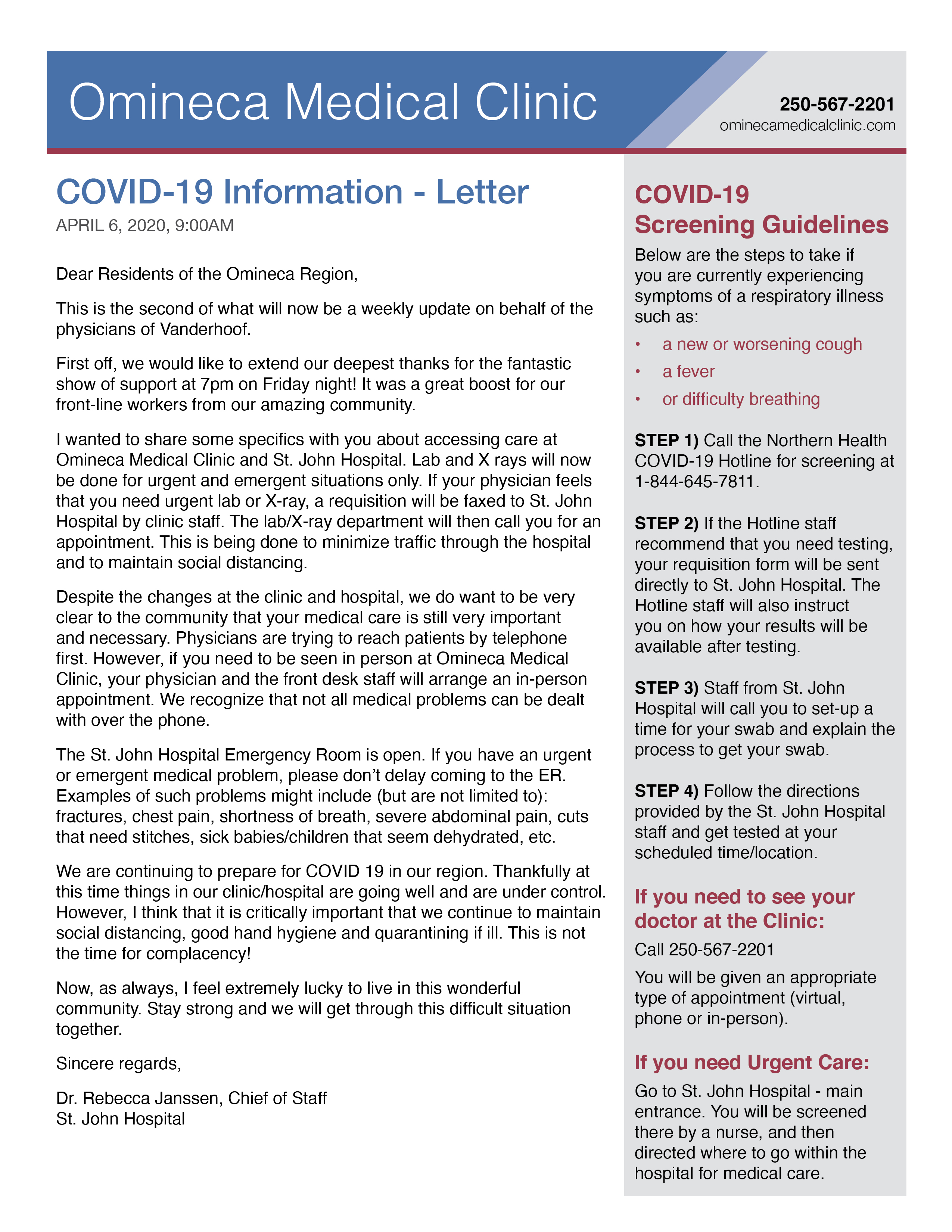 » Letter from Dr. Rebecca Janssen, Chief of Staff to the community - October 7, 2021.
» Letter from Dr. Rebecca Janssen, Chief of Staff to the community - April 6, 2020.
» Letter from Dr. Rebecca Janssen, Chief of Staff to the community regarding COVID-19 - March 30, 2020.
» Letter from our Physicians to the community regarding COVID-19 - March 23, 2020.